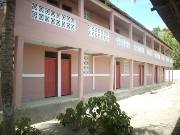 Caleb Missionary Relief Services (CMRS) is a 501 (c) (3) tax exempt organization and provides education,training, and services to the poor, the needy, and the disadvantaged in the country of Haiti. CMRS provides the uniforms, school supplies, and raises support for the teachers at our school. Without the donations that CMRS receives, our students would not be able to attend school. CMRS also provides job-skills training to poor and disadvantaged communities, and educates and involves the general public in caring for poverty-stricken communities. To prepare our youth to be servant leaders for tomorrow, CMRS further educates youth in Atlanta on the value of volunteering and serving the poor and needy.
Our Vision
To raise up a new generation o
f leadership to be self-sufficient and self-propagating.
Mission
To break the cycle of poverty and hopelessness in communities by preparing the next generation with educational services and training that will transform their community.
Philosophy
Every child is unique; every child has a unique purpose and unique values; every child deserves the opportunity to succeed. CMRS believes that the purpose of education is the development of each child's potential, the nurturing of purpose, uniqueness and integrity.
Core Values:
♦We believe in putting God first and serving with excellence.
♦We believe in serving communities with a teachable spirit, humility, and with a spirit of love.
♦CMRS believes in involving the leadership from the community to solve the challenges and problems that exist within the community.
♦CMRS believes in equipping the community with the proper training to provide their own community based services.
♦CMRS believes in building bridges and relationships with partners & leaders in the community.
♦CMRS believes that through our light others will be given hope.
---