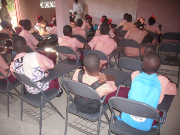 We are always in need of caring individuals to donate to the school and sponsor trips to Haiti. If you are not in a situation to donate financially, you can help by spreading the word for free!
We also have opportunities for students, groups, and individuals to participate in internships, trips, and travel to do projects at the school. We can use people of all fields and academic interests.
Internships
Internships are available all year round, to students in the Atlanta area and beyond. This semester a student completed an internship from Washington, D.C. that included internet promotions, technology development, and concluded in a research trip to Haiti. To read about that intern's experience click here (coming 12/12/09). To apply for an internship please contact Patricia Christian (info@calebmissionaryrelief.org).
Mission Teams
If you are an individual, church, or other group wanting to help Haiti, please email us with an estimated number of people, dates you would like to help, and a descption of your organization to Patricia at info@calebmissionaryrelief.org. Due to the sensitive nature of work for disaster relief, we are currently unable to take any teams with us to Haiti until further notice, though once our children are settled we will resume these trips. Join our Mailing List to get the latest updates.
Contact Us
For other inquiries, please email info@calebmissionaryrelief.org or call toll free 1-866-478-1042.
Toll Free Fax: 866.479.2079
*Note- Correspondance for our school in Haiti should be sent to our corporate office
Corporate Office Mailing Address:
Caleb Missionary Relief Services
P.O. Box 362041
Decatur, GA 30036-2041
United States
---